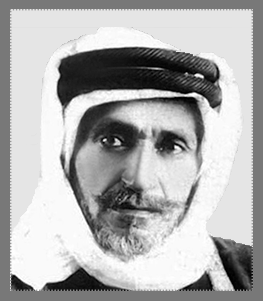 The chief tribal judge is a legislator, as other tribal judges refer to his legislation. As such, chief tribal judges are aware of the gravity of their decisions and their influence on the Badia community.
When World War I erupted, Sheikh Hamad bin Jazi at first insisted on neutrality, but he later decided to join the Great Arab Revolt after recognising the truth of its goals. He offered support by providing men and using his influence, heading to Aqaba to meet Prince Faisal and joining the riders of the Hweitat tribe in the battles of Ghreighra, Hassa, Aneisa and Ghadeer Al Haj. He also fought in the battles of Jarf Al Daraweesh, Tafileh and Maan. Sheikh Hamad continued fighting with his rifle and sword until the Levant was liberated, and he entered Damascus alongside Prince Faisal, proud of victory.
Sheikh Hamad represented the tribes of the Southern Badia in the legislature, and later served in the House of Representatives for 10 consecutive sessions. He died on 8 December 1962, and he was laid to rest in Rashadieh.