Prince Zeid bin Al Hussein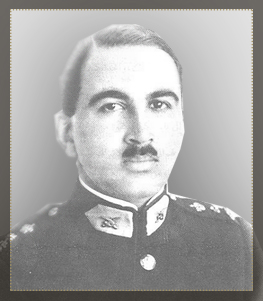 Prince Zeid bin Al Hussein was born in Istanbul in 1898 during his father's stay there. He returned to Hijaz, where he received his education. With the launch of the Arab Revolt in June 1916, Prince Zeid participated in leading the attack on Turkish posts in Mecca, and he helped fight back the Turkish troops that were threatening to march from Medina to Rabigh, and from there to Mecca. He continued to lead the fighting around Medina Munawara for a whole year. In September 1917, he joined his brother Faisal in Aqaba.
In early 1918, Prince Zeid took over the leadership of three columns of the Northern Army, and their mission was to march to Wadi Musa, Shobak, Jarf Al Daraweesh Station and Tafileh. The campaign was considered successful, entering Tafileh. In response, a major Turkish campaign left Amman to retake Tafileh, and a battle took place between it and the Arab forces that ended with crushing the Turkish troops.
Prince Zeid fought in a number of battles, until the Turks left Maan. He then joined his brother Faisal in Damascus and deputised for him when he went to the Paris Peace Conference. He remained alongside Faisal until he left Damascus after Maysaloun Battle.
Prince Zeid bin Al Hussein only returned to Mecca over four years after leaving. In 1923, he joined his brother Faisal in Iraq and then spent some time studying in Britain. Afterwards, he joined Sharif Hussein in Cyprus and remained by his side until his death. Prince Zeid was ambassador for Iraq in a number of countries, such as Turkey, Germany and Britain. After the coup d'état in Iraq in 1958, he left public service. Prince Zeid died on 18 October 1970.