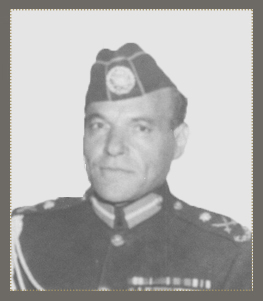 Mohammad Ali Ajlouni was an officer in the Turkish army. When the Great Arab Revolt erupted and the vanguard of Prince Faisal's army arrived in southern Jordan, Ajlouni joined the troops in an area in the west of Maan, south of the Kingdom. He was close to Prince Faisal, and he was tasked with leading the Special Royal Guards after Prince Faisal was proclaimed King of Syria on 8 March 1920.
Ajlouni accompanied Prince Faisal during the Revolt and in Damascus, which enabled him to be aware of various little known issues on account of his presence in the Arab palace after 1920. Ajlouni's major achievements include his involvement in Maysaloun Battle.
He served in several political positions at Jordanian embassies. In one major role, he was assigned to accompany Sharif Hussein during his stay in Cyprus from 1924 to 1931. He died after serving the Arab Revolt, the Transjordan Emirate and the Hashemite Kingdom of Jordan well.
It is also worth noting that the martyred pilot Firas Ajlouni, who died in the 1967 war, was one of his children.