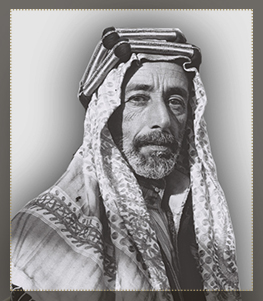 King Ali bin Al Hussein was born in Mecca in 1880. He accompanied his father to Istanbul to stay there, returning later to Hijaz when his father Sharif Hussein became its Emir. He assisted his father in his responsibilities and deputised for him in his absence.
When the Great Arab Revolt erupted, Prince Ali took over the leadership of the army. After Sharif Hussein was proclaimed Arab leader, Prince Ali was tasked with heading the state's first government.
After the end of World War I, Fakhri Pasha, the leader of the Turkish army, left Medina Munawara, having been surrounded by the Revolt's armies for three years. He turned himself over to Prince Ali, who entered the city and hoisted the Arab flag there. His father then appointed him as its Emir.
Prince Ali worked hard to restore normal life to Medina, and also exerted efforts to rebuild the railway until it was restored.
In late 1924, Sharif Hussein abdicated and Prince Ali was proclaimed King of Hijaz. He moved from Mecca to Jeddah, where he continued to fight the war for around a year, before leaving Hijaz in late 1925. He moved then to Baghdad to stay alongside his brother King Faisal I, for whom he deputised during his travels.
He had one son, Prince Abdul Ilah, and three daughters. He died in Baghdad in 1935.