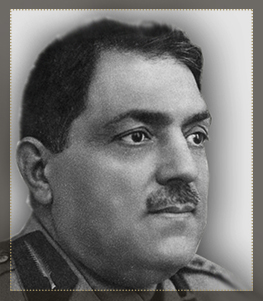 Jafar Al Askari was born in Baghdad in 1885, and he received his education at the Imperial Military Academy in Istanbul. He served in the Ottoman army and was sent on scholarship to Germany to study military science. He fought in the Balkans war in 1913, before being appointed as an instructor at the officer school in Aleppo. After the Ottoman state entered World War I, the army command dispatched him to Libya.
After fighting on the side of the Senussis against the British army, he was imprisoned and moved by the English to Cairo. Once word came out of the eruption of the Arab Revolt, he volunteered to serve in 1917, joining Prince Faisal's army, where he was appointed as leader of the regular forces. He fought many battles in Hijaz and Transjordan, before being appointed as military ruler of Aleppo. After King Faisal left Syria in 1920, Askari went to Iraq, where he served as defence minister under King Faisal and founded Iraq's modern army.
Jafar Al Askari served as prime minister of Iraq three times, and was then named Iraq's ambassador in London, where he studied law. He was assassinated in 1936.