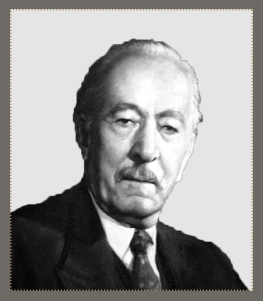 Born in the Palestinian city of Nablus in April 1882, Awni Abdul Hadi received his elementary and middle education in Beirut and Nablus, before enrolling at Ottoman schools in Istanbul in 1905 and later travelling to Paris to study law. He founded Al Fatat (The Young Arab Society) along with a number of colleagues.
In 1918, he attended the Paris Peace Conference as part of the Arab delegation chaired by Prince Faisal bin Al Hussein, who asked Abdul Hadi to become his personal secretary and director of the Hijaz office in Paris. He then served in Faisal's Arab government in Damascus as secretary general of the foreign ministry. After the government fell in 1920, he left Damascus for Cairo.
Awni Abdul Hadi then joined Prince Abdullah bin Al Hussein in Maan, accompanying him to Amman, where the Emirate of Transjordan was established. He was appointed as chief of the Emir's higher court and also served as: Jordan's ambassador in Cairo, a member of the fifth Jordanian Senate, minister of state in Said Mufti's fourth government, foreign and justice minister in Ibrahim Hashem's fourth government, a member of the Arab Federation Council (the Jordan-Iraq federation) and head of legal administration at the Arab League in Cairo. He died on 15 March 1970.